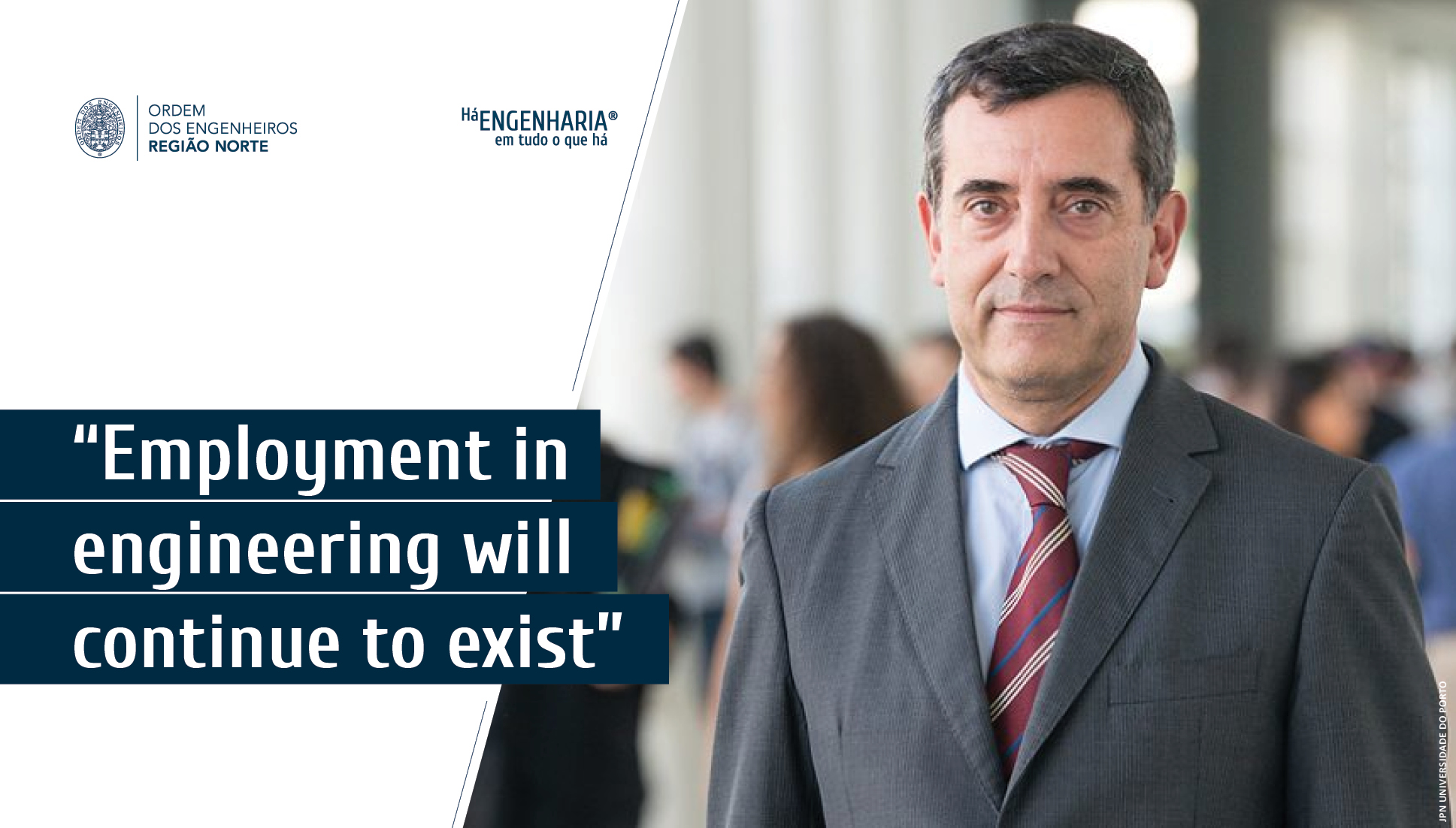 Interview: João Falcão e Cunha, dean of the School of Engineering of the University of Porto (FEUP)
João Falcão e Cunha, dean of the School of Engineering of the University of Porto (FEUP) assumes that "this experience of distance working on a large scale will change the way we have got used to studying, working, and living". He also assures us that FEUP is already working so that the face-to-face activities can be "phased in, starting with research activities and laboratories, with classes, and evaluations with few students in each room".
The dean of FEUP reminds, however, that although there is Engineering in everything, "must understand their own limits, and involve other professionals", and an example of this are the initiatives that FEUP researchers are developing involving several national institutions, and companies.
We often hear that academics don't know how to do, they just lecture how to do. With this pandemic we have seen exactly the opposite: students, professors, researchers are actively producing visors, masks, ventilators and many other materials that may help to save lives. How do you see the projects FEUP is developing in this framework?
I think that all professionals with ideas to help overcome existing difficulties, and with the capacity to develop them, are working during this crisis often overcoming some opinions that could exist. This also applies to the academic engineers at FEUP who are in general very much used to giving technically correct answers to problems, and with useful solutions for society, with the available resources, in particular in limited time. Some of the initiatives have already had practical results, such as protection visors. Others are ready to be used, depending on some kind of medical certification, such is the case of the pandemic ventilator. There are several other ongoing projects that are still in the design and testing phase, but I hope they will have very important practical contributions soon. Anyway the expectation I have for the students and Alumni of FEUP is that they are always learning, and that way they can do better than us!
The Association of Metal, Metal Mechanical and Related Industries of Portugal (AIMMAP – Associação dos Industriais Metalúrgicos, Metalomecânicos e Afins de Portugal) and the 'cluster' of the sector, called 'Metal Portugal', are also participating in the development of 'PNEUMA', the prototype pandemic ventilator developed by INESC TEC and FEUP. What does this involvement outside the academic sphere mean for FEUP?
The case of PNEUMA results from the experience and knowledge of our researchers, as well as of colleagues from health areas, applied to the development of a simple, effective, safe and low cost ventilator. Several prototypes have been built and tested to improve these characteristics, in particular safety. The development base is an open project that is being progressively improved. The components used are either available off‑the‑shelf or have been 3D printed. The first series of 10 ventilators will be built by companies with which there has been permanent collaboration. The network that exists between our academics and companies, very dynamic already for a long time, also allows today a quick response and it is expected that these first pandemic ventilators can start to be tested in real situations in the next few days, with the aim of delivering a first series of 200 units. Each new experience of multidisciplinary and networked work, usually with external institutions, creates or improves our knowledge and also allows us to improve interactions with students and researchers. This is the main mission of FEUP and therefore collaboration and involvement with external institutions is fundamental.
Is there an extra requirement for engineers, from whom pro-activity and solutions to help fight the virus are expected? Do you expect your students and Alumni to make a difference?
The demand is huge for many people. Engineers, present and future, have their responsibilities in this field because they have the ability to use and develop scientific knowledge in various fields and apply it to obtain useful solutions, making decisions involving multidisciplinary groups. The ongoing projects highlight the need for engineers to work together in the various specialties, and to work with other professionals, with common goals. Creativity to face a challenge is necessary, as is common sense to respect social and legal norms. For example, it is possible to build personal monitoring systems using georeferencing, but solutions must be socially acceptable, notably by ensuring respect for privacy. This is a balance that is expected in the activity of our professionals, and also of FEUP Alumni. In addition to technical skills, innovation capacity and respect for ethical principles are essential.
What measures would be important to take so that young engineers and recent graduates can have opportunities in the labour market that will naturally be more difficult to enter now?
Employment in engineering will continue to exist, although some areas of engineering will be more adversely affected. From a generic point of view, it is necessary to maintain communication with society and allow companies to come into contact with those who can and want to work. From the point of view of young engineers and recent graduates, it is still advantageous to have flexibility to continue learning and applying experience and knowledge in new areas. At this particular time, digital skills are naturally very relevant. I also believe that the university and the final year students should work on adapting what they are doing to graduate at the planned time, and that the vast majority should be able to do so by the end of the academic year in July in order to make their contribution to society, and the economy, at a time when significant efforts will be required.
Many start-ups originated in the halls of FEUP. How do you see the future of these young companies, some very dependent on tourism, and on technology companies that have based their operations in the north of the country?
The impact of the crisis can certainly be very negative for the new companies that are working in the most affected economic areas, particularly in industry and services. They should therefore make use of the general support mechanisms that have been set up and are being delivered. Much will also depends on the situation of their shareholders or of who finances them. As these new companies usually have a lot of flexibility I believe that many will be able to adapt, and survive the crisis. The current situation may also allow new ideas to emerge that may give rise to new businesses, which will endure.
New technologies and distance learning have proved that there is scope for other forms of education than the traditional one. Do you believe that there will be a paradigm shift in the way classes are taught?
I have no doubt that this experience of distance working on a large scale will change the way we have got used to studying, working, and living. And I believe that we will be better off after what we are learning and experiencing out of necessity, also better valuing some aspects of the unique world we have.
How do you expect a return to normality in an institution with thousands of students from all over the world like FEUP?
FEUP is already preparing to resume face-to-face activities. It will certainly be phased in, starting with research activities and laboratories, with classes and evaluations with few students in each room. Ways of ensuring the protection and social distances are also being studied. For example, we are considering the need for conditioned access at the entrance of buildings, and the possibility of turning off the lifts, except for those with reduced mobility. Therefore I think that distance education will be maintained for a long time, whenever necessary and possible.
How can Ordem dos Engenheiros play a more active and determining role in the post-pandemic and in supporting its members?
The Professional Association of Engineers must maintain its activity with public and governmental entities, institutions of higher education, and its members, generally resorting to distance initiatives. Physical and virtual security issues are now more pressing, and must therefore be taken into account in the various areas of engineering. It has always been relevant, but it may now be more relevant to promote a debate on the balance between access to private information, and personal privacy in combating the pandemic. Engineering professionals who are involved in the construction of surveillance systems are being confronted with ethical, and legal dilemmas.
I would ask you to send a message to all the engineers and engineering students who will read this interview.
Whenever there is a new challenge we must observe what is going on with a critical sense, but also creative thinking, looking for the most appropriate, and sustainable solutions. We can always learn from past mistakes, and develop alternative solutions, innovative solutions better adapted to new needs, also based on engineering and technology.
To close: Is there Engineering in everything? Comment.
There is engineering in everything, but engineers must understand their own limits, and involve other professionals. Together we can find effective answers to problems, and thus improve the quality of life of people, to have a more balanced and happy society.